How about a retaining wall that doubles as a sitting wall around a fire pit? Add some ambiance and style to your backyard with an outdoor patio or fire pit that includes a sitting wall or a retaining wall. Let your dreams run wild in Chelmsford MA, Littleton MA, Westford MA, and surrounding areas. Courtyard Concepts can bring those dreams into a reality you're going to enjoy for years to come!
~ Define your unique space with durability and strength ~
Sitting walls are the one element above others that help to define an outdoor space. Just like walls on an indoor room, sitting walls create the boundary of the patio or terrace. Sitting walls don't have to encompass the entire patio to help identify the outdoor room.
Retaining walls are perfect for leveling areas or gardens that have grading in Chelmsford MA, Littleton MA, and Westford MA. We can level slopes and install retaining walls that will prevent erosion of soil and keep the rest of the area safe while giving it a natural look.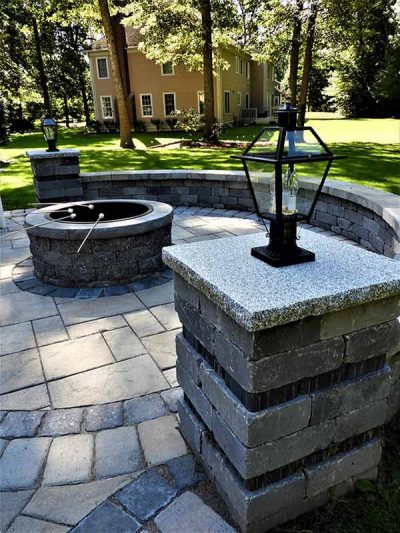 If you're dreaming of a retaining wall or sitting wall, an artful stone design might be just the thing to add beauty to your yard while resisting the forces of nature at the same time.
Check out our retaining wall & sitting wall portfolio @ https://courtyardconcepts.com/retaining-walls-portfolio/
Since 2001, Courtyard Concepts has enjoyed building retaining walls and sitting walls while bringing beauty, value, and comfort to your home!  It is our goal to guarantee quality workmanship and ensure our customers satisfaction every step of the way in Chelmsford MA, Westford MA, and Littleton, MA.
Call 978-256-5454 or email designs@courtyardconcepts.com for a free estimate today!