Looking for a natural way to beautify your outdoor surroundings?  Stonework is a popular hardscaping choice among homeowners as it's natural, elegant, and timeless beauty stands above the rest.  With a plethora of options to choose from, stonework has become more prominent in landscape design for patios, walkways, fire pits, steps, columns, wall systems, and other numerous projects. Because stonework is natural, it is ideal for more aesthetically-pleasing exterior features and requires virtually no maintenance in Chelmsford MA, Littleton MA, and Westford MA.
Natural stonework strikes an inspiring balance between the elements and foliage, providing the grounds around it a genuine and organic feel.  Materials range from bluestone, veneer stone, to flagstone, and more.
Cultivate Style ~ Create A Canvas for creativity and design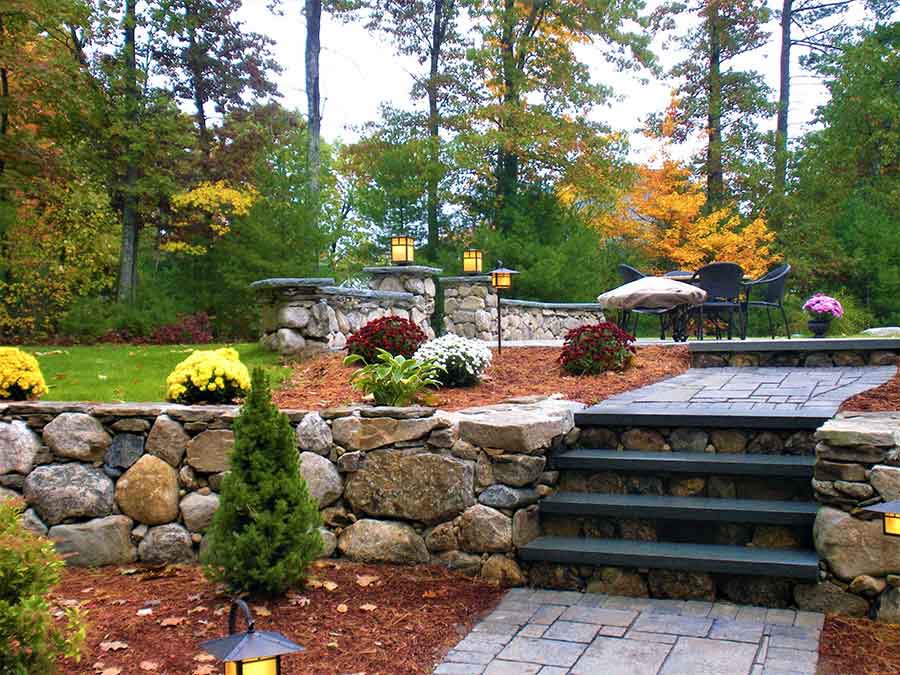 If you're looking for a retaining wall, stonework is good for creating a raised garden bed, beautifying your property, and resolving drainage issues that protect your foundation and defining spaces.  A beautiful retaining wall adds style, character, and a textured design element that can turn an ordinary yard into an extraordinary one in Chelmsford MA, Littleton MA, and Westford MA.
Sitting walls are attractive and functional stonework benefits and a great use of outdoor space for entertaining and relaxing.  Homeowners now spend more time than ever enjoying the outdoor features of their property. Custom designed and built to add function and beauty to fit your family's lifestyle, stonework is the perfect option!
Check out our stonework portfolio @ https://courtyardconcepts.com/stonework-portfolio/
Courtyard Concepts takes pride in our expert craftmanship.  Our installations include; patios, walkways, fire pits, steps, retaining walls, stonework, veneer stone foundations, stonewalls, sitting walls, paver driveways, granite lamp posts, granite mail posts, columns, pillars, outdoor fireplaces, pool decks, and more.
Need help coming up with some unique garden ideas or landscape ideas for an exterior project?  Courtyard Concepts enjoys adding beauty, value, and comfort to your home in Chelmsford MA, Littleton MA, and Westford MA! Call us today at 978-256-5454 or email designs@courtyardconcepts.com for a free estimate.