SOLID ~ VALUABLE ~ ATTRACTIVE
Step design begins with the style of your home and landscape. Steps and stairs can make an impressive entry statement or simply provide easy access to your home or landscape. Grades in your landscape may require steps to transition from one level to another in order to prevent erosion. These are just a few reasons custom steps and stairs are fast becoming a popular choice for homeowners in Chelmsford MA, Littleton MA, and Westford MA.
Granite Steps & Stairs ~ One option for strength and longevity is solid granite. Granite steps are useful, durable, and as solid as they are beautiful. Whether your exterior steps and stairs are made of granite, natural stone, brick, blocks or pavers you will enjoy them for years to come. Another attribute is the addition of value to your property, which is always a good thing if you plan to stay or sell in the future.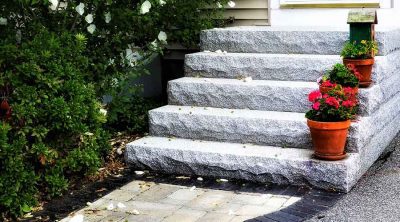 DESIGN AND BUILD STEPS WITH SAFETY IN MIND
Natural Stone Steps & Stairs ~ Natural stone steps add a vast amount of interest to the landscape. They also make a bold statement when utilized at an entry point such as the front door. Your natural stone steps can be decorated with rails or without them if you prefer. They can also be lit with outdoor lighting in order to enhance their beauty. Line them with a bit of color by surrounding them with your favorite flowers in Chelmsford MA, Littleton, MA, and Westford MA.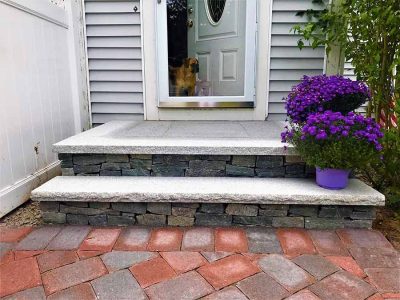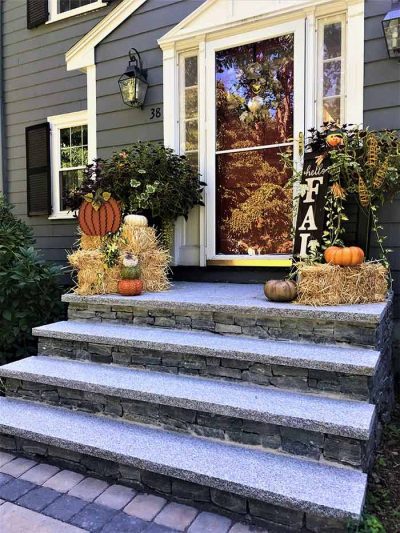 From a simple set of steps up to your home's doorway or from one level of your patio to another, to more involved steps and stairs built into retaining walls and sloped backyards, Courtyard Concepts offers great ideas of how to accomplish your outdoor step design. Custom steps and stairs are the perfect way to add an element of simplicity and splendor to your home.
Courtyard Concepts is an outdoor living company that specializes in creating and installing custom steps and stairs in Chelmsford MA, Littleton MA, and Westford MA. Courtyard Concepts has been proudly serving clients for over 20 years.
Contact Courtyard Concepts today @ 978-256-5454 or Email at designs@courtyardconcepts.com for a complimentary estimate. Our team is committed to providing outstanding customer service and is always excited for the opportunity to meet homeowners!