Outdoor steps are a crucial part of any landscaping or hardscaping project.  They serve a variety of purposes and offer many benefits beyond functionality.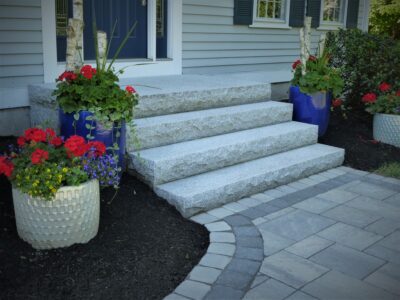 Safety – Outdoor steps can provide a safe and easy way to navigate changes in elevation to your patio or garden. They can help prevent falls or trips and provide a secure footing during wet conditions.
Aesthetics – Outdoor steps enhance the beauty and visual appeal of your landscape or hardscape. They can be designed to complement the existing features of your outdoor space and add a touch of elegance and charm.
Accessibility – Outdoor steps make your outdoor space more accessible to people of all ages and abilities. Providing a smooth and gradual transition between different levels of your outdoor space and easier to navigate mobility issues.
Durability – Outdoor steps made from high-quality materials such as pavers or stone are highly durable and can withstand the elements for many years with proper maintenance. Hence making a great outdoor living space investment.
Value – Outdoor steps increase the value and curb appeal of your property. A well-designed and functional set of steps make your outdoor space more attractive to potential buyers and add overall value to your home.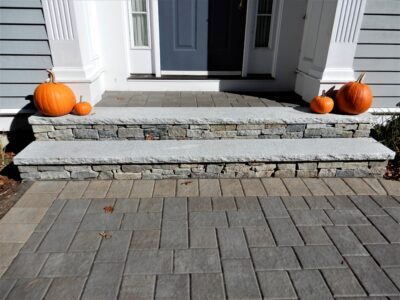 In summary, outdoor steps offer a variety of benefits beyond just providing access to different areas of your outdoor space.  The benefits range from safety, accessibility, aesthetics, functionality, durability, value, and much more.  Making them a worthwhile addition to any landscape or hardscape project.
See the difference our step designs can make! Check out our step portfolio @ https://courtyardconcepts.com/steps-portfolio/
Courtyard Concepts has been creating outdoor designs for over 21 years in Chelmsford MA, Westford MA, and surrounding areas. Our team is committed to providing outstanding customer service and is always excited for the opportunity to meet with homeowners.
We enjoy adding beauty, value, and comfort to your home!