Looking for outdoor entertainment ideas or more usable, enjoyable, and attractive space?  Or a quiet retreat in nature?  We can help! At Courtyard Concepts we've been helping homeowners in Chelmsford MA, Littleton MA, and Westford MA and surrounding areas add beauty, value and comfort to their homes for 20+ years. Whether you want to add a patio, walkway, fire pit, or steps we can help with all your outdoor landscape and hardscape design needs.
We all take pride in our homes, investing countless hours rearranging and decorating the interior. Creating beautiful outdoor spaces is fun too! They add charm and personality to your home, while creating a great place for entertaining guests or spending quiet evenings in the great outdoors!
Bring the Inside Out!

Think about things you love to do when you're inside your home and bring them outside. Do you love to cook? Entertain? Read? Everything you do inside can enhance your experience outside, especially if you plan accordingly for the things that truly bring you joy. Furniture, appliances, and the perfect setup can all do their part to help you bring the inside out so you enjoy your great outdoors in Chelmsford MA, Littleton MA, and Westford MA.
Get Away In Your Own Back Yard!
Hardscapes are the NEWEST trend in exterior home renovation. Many homeowners are looking to expand their outdoor living spaces, to entertain family and friends all year around! It's versatility, color options and ability to withstand every day wear and tear – makes it an EXCEPTIONAL choice!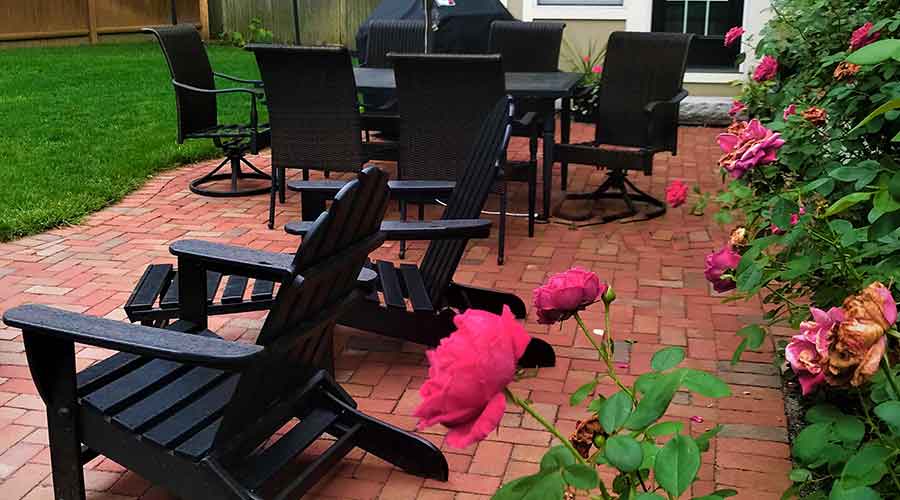 Need ideas for your upcoming Hardscape project? Let Courtyard Concepts be your source for all things; pavers, natural stone, wall block and more! We can help you design, plan and install the perfect paver project in Chelmsford MA, Littleton MA, and Westford MA!
Read our blogs to learn more https://courtyardconcepts.com/category/blog/
Give us a call today @ 978-256-5454 or Email
designs@courtyardconcepts.com for a free estimate!