From terracing steep slopes or preventing soil erosion to creating level spaces for patios, gardens, and structures, retaining walls transform unusable space into usable outdoor living space. Retaining walls are multi-functional and a relatively simple way to add aesthetically pleasing visual interest to your landscape as well as strength and durability in Chelmsford MA, Littleton MA, and Westford MA.
Retaining walls can have a beautifying effect. If you love having plants and gardens in your backyard, retaining walls are a great option to encompass and accentuate your greenery. They can literally sculpt your landscape! In addition to adding visual interest, retaining walls are often used to control erosion and manage runoff.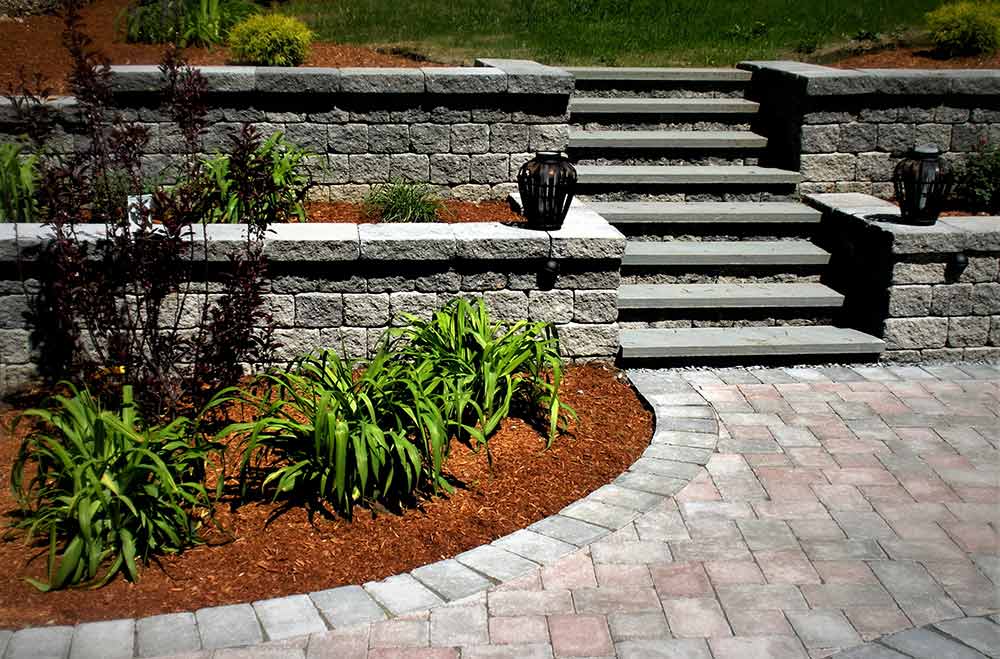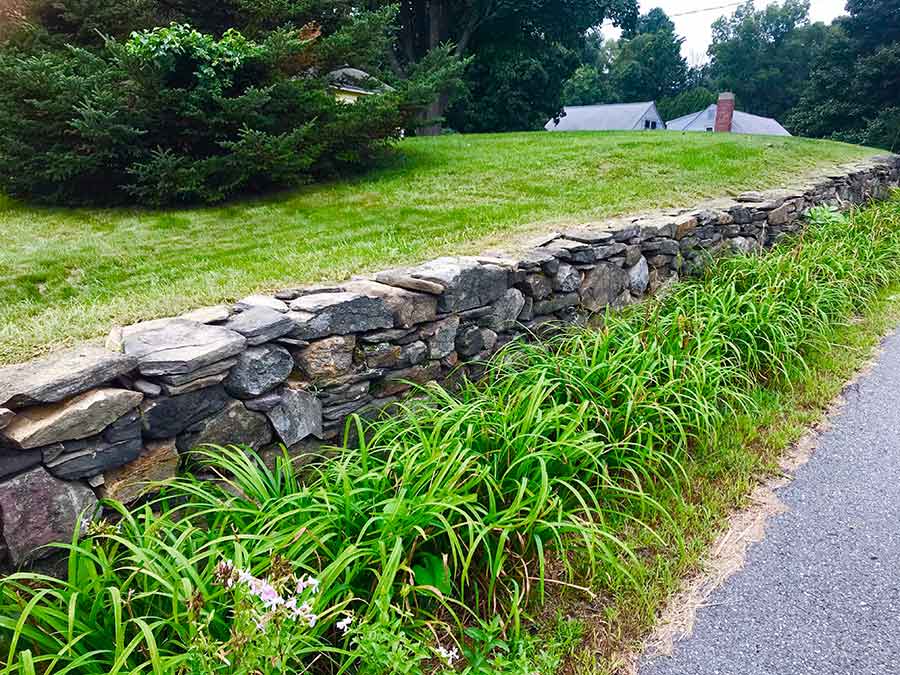 For every outdoor environment, there's a perfect retaining wall to help define boundaries and create a sense of exterior structure. If you have an unwanted slope in your landscape, retaining walls can be a great solution. Raised garden beds give your yard an exceptionally stunning profile. 
Having a properly installed wall is important for your safety. Whether you need a retaining wall, sitting, decorative or freestanding wall, Courtyard Concepts can design and install a custom solution for your home's needs. There are a variety of options for integrating walls into your front or backyard in Chelmsford MA, Littleton MA, and Westford MA. Add steps or wall cap lights for added safety & ambiance!
WHICH STYLE TO USE?
Modular Block Walls
Modular block walls use pre-engineered, pre-cast concrete blocks that come in a variety of colors, styles, and textures. Modular block walls can also be free standing or used to retain soil for planting beds or elevation change. Modular block walls are low maintenance, provide longevity, and are easy to clean.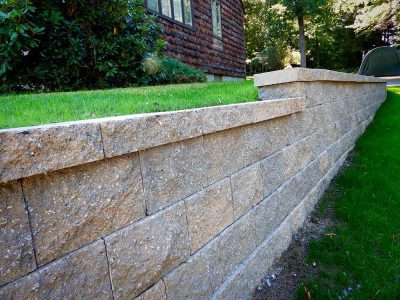 Natural Stone Walls
Natural stone walls are environmentally friendly and provide lasting and unique beauty. Natural stone comes in many colors and textures – no two stones are the same, making your wall a unique and attractive feature. Natural stone walls are long lasting.  Clients have mentioned their stonewall features "look better over time, as they age."
Compliment your exterior ~ Outline your outdoor living area ~ The ideal custom paver retaining wall solution is waiting for you!
Courtyard Concepts designs and installs natural, Eco-friendly, and modular block retaining walls to residential properties. We offer expert craftsmanship, quality products and detailed project management with a consistent focus on budget and design objectives. Our team is committed to providing outstanding customer service and is always excited for the opportunity to meet with homeowners in Chelmsford MA, Littleton MA, Westford MA, and surrounding towns.
Contact Courtyard Concepts today @ 978-256-5454 for a complimentary retaining wall design and installation estimate.