Beautify your property with retaining walls expertly installed by Courtyard Concepts.  If you have a spot in your yard that needs leveling or soil that needs to be held back, we are here to help!  You can be assured not only will your retaining wall be structurally sound and provide proper drainage, it will also be aesthetically pleasing in Chelmsford MA, Westford MA, and surrounding towns.
Retaining walls in all their multiple types serve practical functions and aesthetic benefits. They provide functional support, prevent sink holes, uneven hills, and hold back dirt on slops.  Additionally, retaining walls are helpful in flood prevention and erosion. They can also be used to create beautiful outdoor living spaces that incorporate multi-use purposes.
Beauty & Elegance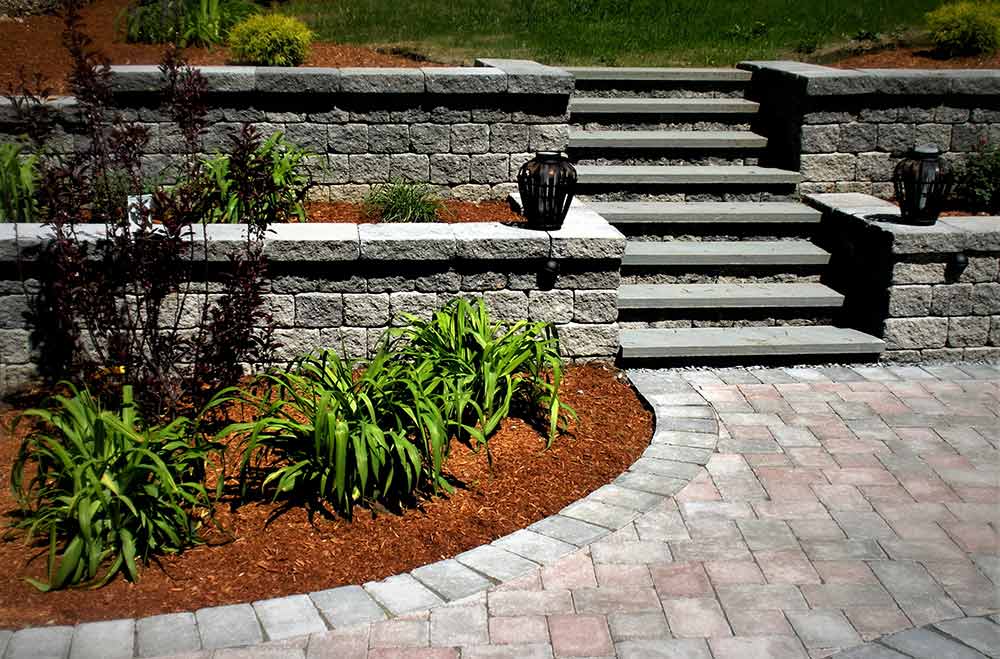 Aesthetically, retaining walls allow the opportunity to introduce new textures and patterns into your landscape.  They can provide an appealing backdrop for decorative plants and introduce another dimension to your landscape in Chelmsford MA, Westford MA, and surrounding towns.
Our craftsmanship, attention to detail and superior client service are just a few of the many reasons we are a preferred landscape design company choice to many. We not only tailor our design to fit your style but we work with you to ensure that your needs are met and you receive quality products that fit your budget.
Explore our retaining wall gallery @ https://courtyardconcepts.com/retaining-walls-portfolio/
Courtyard Concepts has been creating outdoor designs for over 22 years in Chelmsford MA, Westford MA, and surrounding areas. Our team is committed to providing outstanding customer service and is always excited for the opportunity to meet with homeowners.
We enjoy adding beauty, value, and comfort to your home!