The Most Important Aspect Of The Hardscape Design Process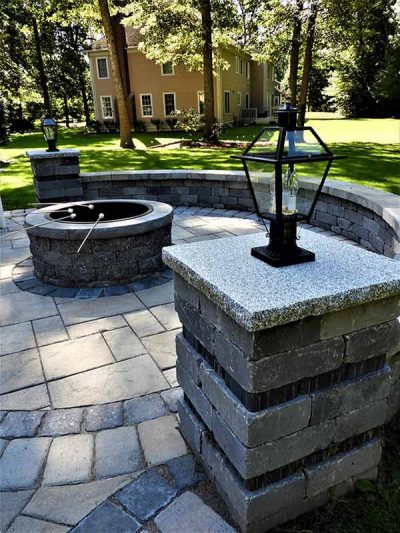 Did you know that an exterior hardscape project might very well transform your home into a place of beauty and tranquility in the towns of Chelmsford, MA, Westford, MA, and Littleton, MA?  Hardscape or hardscaping refers to solid components incorporated into your landscape such as pavers, brick, stone and other hard building materials used to create patios, retaining walls, walkways, fire pits and much more!
In addition to adding splendor and value to your property, hardscapes extend the use of outdoor spaces year-round. The design options are virtually endless. That means you can have a customized hardscape project installed to fit your personal tastes while enhancing the look, feel, function, and value of your property.
You should also give serious consideration to working with an experienced hardscape design and installation specialist from the very start of the process. At this point you must be wondering what the most important aspect of the hardscape design process actually is. You should always….
Plan Each Hardscape Project with The Long Term in Mind
There certainly are a great deal of aspects to the overall hardscape design process. The most important one is to plan each project with longevity in mind. In fact, thinking about the long term and planning for the future should always be at the top of the list when designing a new hardscape project. Unlike flowers, plants, and grass that can easily be relocated or removed, hardscapes are permanent structures built to last.
With a hardscape plan and design already in place, property owners have the option to add additional features at any time in Chelmsford, MA, Westford, MA and Littleton, MA. Once you have a hardscape feature installed, it should last for the long haul and not be something you decide to replace in the near future. For example, if you have a stone patio designed and installed, you could add a custom constructed fire pit or matching stone pathway at some point in the future.
Planning ahead is key and could certainly save you a significant amount of time, money, and aggravation in the long run. 
In conclusion, if you are interested in planning a hardscape project at your home in Chelmsford, MA, Westford, MA and Littleton, MA or would like to learn more about the topic, please contact Courtyard Concepts today. We are an outdoor living company that specializes in creating and installing custom hardscape that greatly improve both the aesthetic value and functionality of your home. Courtyard Concepts has been proudly serving clients for over 20 years.