Custom Stonework Features Make This Property Of The Month Stand Out
Courtyard Concepts is incredibly proud of each and every project we design and install for our valued clients. On that note, we have decided to publish a featured property of the month showcasing some of the work we perform within the local community. The following example was recently completed at a private residence in Carlisle, MA. We hope you enjoy reading about it nearly as much as we enjoyed being trusted with this incredible mission. So, without further ado, here are the custom stonework hardscape features that make this featured property of the month stand out!
The Initial Design
Our client wanted to add eye catching simplistic beauty to their landscape that blends into the natural surroundings of this property at the same time. In addition, the design needed to be aesthetically pleasing while serving an actual function. After listening to the client's needs, wishes, and desires, plus our expert suggestions and opinions, we began to work on the initial design process. It was determined that this magnificent property required multiple stonework hardscape features that would be constructed with a combination of the highest quality bluestone and natural stone materials. If you are curious at this point as to what the stonework hardscape features are, please read on.
The Custom Natural Stone Retaining Wall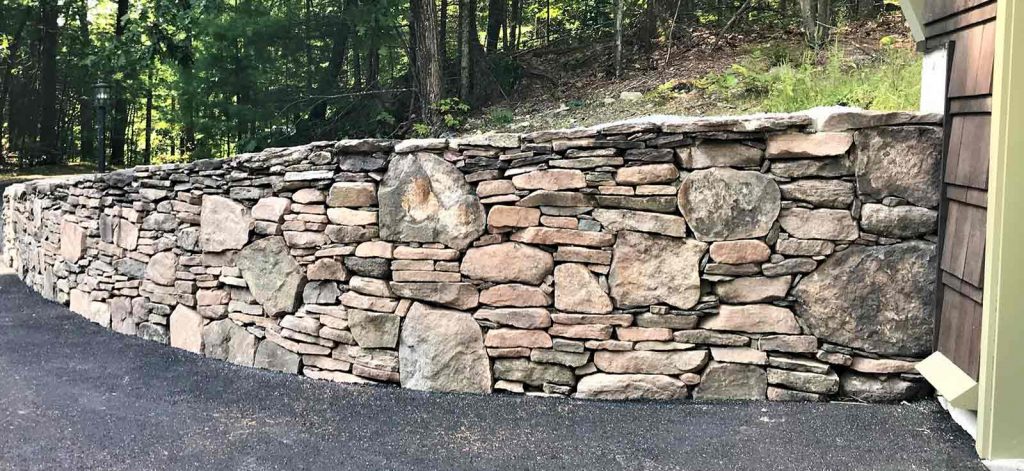 The custom designed stonework hardscape project in Carlisle, MA required the installation of a retaining wall in order to prevent the foundation of the property from shifting with the hillside. Retaining walls are excellent investments that will vastly increase the value of a property. They have an aesthetic appeal and serve an incredibly important function. Although a great deal of property owners choose to have their retaining walls constructed with pressure treated lumber or railroad ties, this particular property called for something even nicer, something special. The answer was a custom-built natural stone retaining wall that will last a lifetime.
The Custom Stone Walkway
The next feature of the custom designed stonework hardscape project in Carlisle, MA needed to act as a centerpiece of the project. Like any proper showpiece, it also needed to serve both a form and a function. The solution was a beautiful stone walkway that has quickly become the first feature most people focus on when arriving at the property. It is certainly an eye-catching attraction that borders and features the front of this stunning home. Some would even say this particular walkway made of stonework is a sculpture or a fine piece of art within its own rights. The bottom line is the gorgeous stonework of the walkway allows the property to stand out from the neighbors in a significant manner by providing unique curb appeal. 
The Custom Bluestone Patio
Last, but certainly not least, we were in charge of designing and building a custom bluestone patio that will serve as an extension of the home's interior for many years to come. Family and friends will be able to enjoy this open space with its plethora of extraordinary design features. They can simply relax with a glass of wine on a beautiful evening or enjoy a nice dinner while surrounded by nature. This incredibly gorgeous bluestone patio is the perfect spot to entertain family, friends, neighbors, and colleagues in both comfort and style in an open space that helps define the backyard.
In conclusion, if you are interested in planning a custom designed and installed stonework hardscape project at your home in Carlisle, MA and surrounding areas, would like to learn more about the topic, please contact Courtyard Concepts today. We are an outdoor living company that specializes in creating and installing custom projects that greatly improve both the aesthetic value and functionality of your home. Courtyard Concepts has been proudly serving clients for over 20 years.