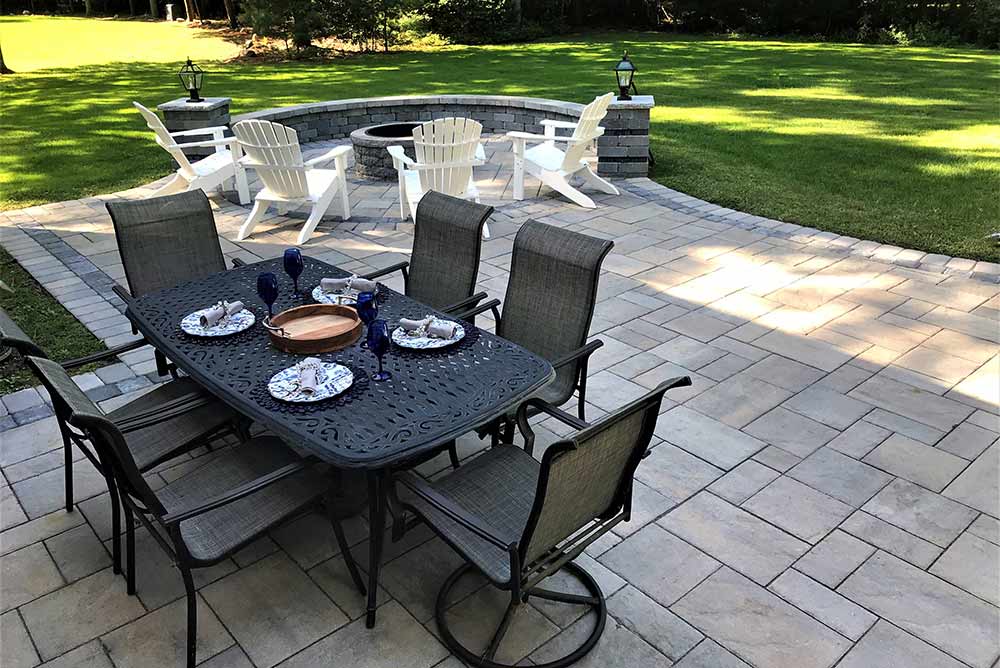 As you contemplate your next hardscaping project in Bedford, MA, Chelmsford, MA, or Littleton, MA  there is something that you should keep in mind. A custom patio installation will certainly work wonders when it comes to adding an enhanced level of appeal to your home! For example, have you ever dreamed of spending time outdoors in both beauty and comfort? A custom designed and installed patio provides your home with character and versatility needed to accomplish this. In addition, there are a plethora of options when designing a new custom built patio.
All of our yards are different shapes and sizes. With a custom patio, you can choose how large or small you want the installation to be. You can also choose the shape and style it will encompass, incorporate curves or accommodate restrictions. A professional patio designer will help you channel your inner creativity to imagine a dynamic patio that will help your home stand out for family, friends, neighbors, guests, and yourself.  Through the installation process, you can watch as your outdoor living space turns into your very own oasis and the perfect spot for entertainment.
When the material that you choose is installed it provides a brand new design element to your home. The possibilities are endless in Bedford, MA, Chelmsford, MA, or Littleton, MA for adding beauty and functionality to your new patio. Your custom patio designer can make an area for a built in bar, built in grill, sitting wall, and or fire pit. You can also add your own custom decor touches when it comes to furniture. Patios are easy to maintain. No matter which material you wish to have installed, such as pavers, natural stone or brick there is minimum maintenance required for the proper upkeep of your new patio.
For example, the vast majority of maintenance centers on the removal of dirt and debris, as needed with either a broom or power washer. The sturdy materials that are used to create our patios do a great job in standing up to the changing weather conditions in New England. That means they are incredibly durable. In essence, the long lifespan and resistance to the elements enable patios to be the ultimate choice for outdoor living spaces. Simply adding a sealer makes them even more resistant to the elements such as water and ultra violet rays from the sun.
A quality patio installation certainly adds a vast variety of comfort to your home. Stepping out the backdoor to relax on your patio is an enjoyable and peaceful setting. It can also be the center of entertainment when hosting company, not to mention it provides you with a quiet area to have a conversation or drink a glass of wine. If you are planning to sell your home in Bedford, MA, Chelmsford, MA, or Littleton, MA or would just like to add an outdoor feature, custom patios provide an appealing element that will increase the overall value of your property. If potential buyers like the design, shape, and space of the patio, it adds a perfect selling point. You simply cannot go wrong by adding an aesthetic appeal of material and durability that patios provide.
In conclusion, if you are interested in having a custom patio installed at your home in Bedford, MA, Chelmsford, MA, or Littleton, MA, or would like to learn more about it, please contact Courtyard Concepts today. We are an outdoor living company that specializes in creating and installing custom patios that greatly improve both the aesthetic value and functionality of your home. Courtyard Concepts has been proudly serving clients for over 20 years. You can reach us by phone: (978)-256-5454 or by Email at designs@courtyardconcepts.com.