Fire Pit Design Possibilities – Part 1 of 2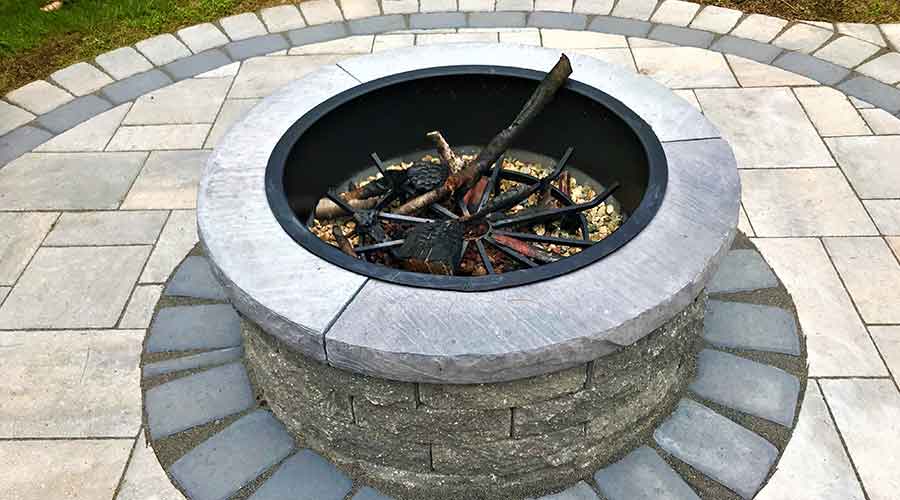 A custom design and built fire pit can be the perfect centerpiece to your entire backyard. Fire pits have become incredibly popular as people of all ages can enjoy gathering around the fire to tell stories, toast marshmallows, talk, or simply enjoy each other's company. So if you're looking to do something special to your home in Chelmsford MA, Littleton MA, or Westford MA this spring, the good news is the search is over.  That being stated, there are a few aspects you should consider when planning to have a custom fire pit installed at your property. The following information will further explain how custom fire pits provide many design possibilities.
Design Aspect #1: Fire Pit Location
The first and perhaps most important thing to consider when having a custom fire pit installed at your home is location. In essence, the location of the fire pit determines a great deal about the design, size, and cost of the hardscape project. For example, your patio, deck, house, or other dwelling structures may affect the location of your new fire pit and help to determine its proximity. Most homeowners have their fire pits constructed on an existing patio.
That means the stonework should match the patio itself, or at least contrast it in a way that is pleasing to the eye. The location also determines the size and other design aspects of the fire pit. Will the fire pit be large enough to enjoy or small enough to fit into the space you have chosen? Do you plan to add seating around the fire pit? Are you going to use the fire pit for cooking? A professional fire pit installer in Chelmsford MA, Westford MA, and Littleton MA can help answer these questions for you.
To Be Continued….

Courtyard Concepts is an outdoor living company that specializes in creating and installing custom stonework hardscapes in Chelmsford MA, Littleton MA, and Westford MA. We have been proudly serving clients for over 20 years. Our team takes pride in its workmanship and strives to improve the functional and aesthetic value of your property while respecting budget objectives.  We can help with all your design needs!
Give us a call today @ 978-256-5454 or
email at designs@courtyardconcepts.com for a free estimate!