Fire Pit Design Possibilities – Part 2 0f 2
People want to accessorize their properties with hardscape designs that serve form, function, and beauty. Custom designed and constructed fire pits hit that nail on the head!  A great deal of today's homeowners in Chelmsford, MA, Littleton, MA and Westford, MA desire far more than a simple wood deck in their backyards. Fire pits bring people together in one gathering spot. They can also be used to find inner peace and tranquility.
There is nothing in the world like sitting by a roaring fire. Custom fire pits provide many design possibilities so yours can be 100% unique to you. Not only will you enjoy using your new fire pit, it will also help your home stand out from the crowd. The following information is a continuation of part 1 of this article. We hope you enjoy it and provide us with a bit of feedback if you'd like.
Design Aspect #2: Fire Pit Lighting And Seating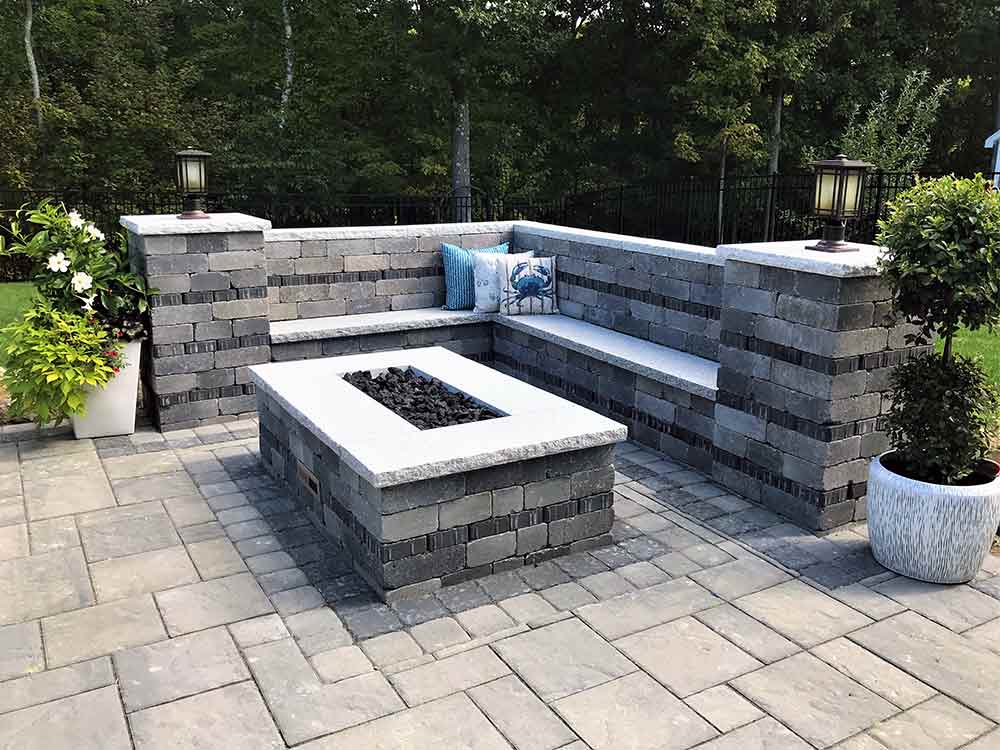 When planning your new custom designed and constructed fire pit, it is important to provide enough light for people to walk around your yard in a safe manner. It is also important to keep the lighting subtle enough to avoid altering the mood around the fire pit. You should consider having some light posts installed or simply stringing some overhead lights in the yard (avoid hanging lights directly over the fire pit).
You can even plug some energy efficient LED lights into a nearby outlet. Seating should be placed far enough away from the fire pit so that people can actually get up and move around as safely as possible. It is always a good idea to have built in seating constructed, or use heavy chairs that cannot be moved easily. These seating ideas will keep people from moving too close to the fire.
Design Aspect #3: Wood Vs. Gas Fire Pits
Did you know that wood, propane, and natural gas are the most common options to fuel a custom designed and constructed fire pit? If you favor the sound of a crackling fire, real wood logs are the way to go. Propane and natural gas are perfect for an instant and effortless fire, although you will not experience the same smoke and crackling sound as a real wood fire. Propane fueled fire pits have an attached propane tank. Natural gas fire pits require a gas line to be run from the house to the fire pit.
Courtyard Concepts is an outdoor living company that specializes in creating and installing custom stonework hardscapes in Chelmsford MA, Littleton MA, and Westford MA. We have been proudly serving clients for over 20 years. Our team takes pride in its workmanship and strives to improve the functional and aesthetic value of your property while respecting budget objectives.  We can help with all your design needs!
Give us a call today @ 978-256-5454 or
email at designs@courtyardconcepts.com for a free estimate!