Top Ways To Light Up Your Property With Classy Granite Lamp Posts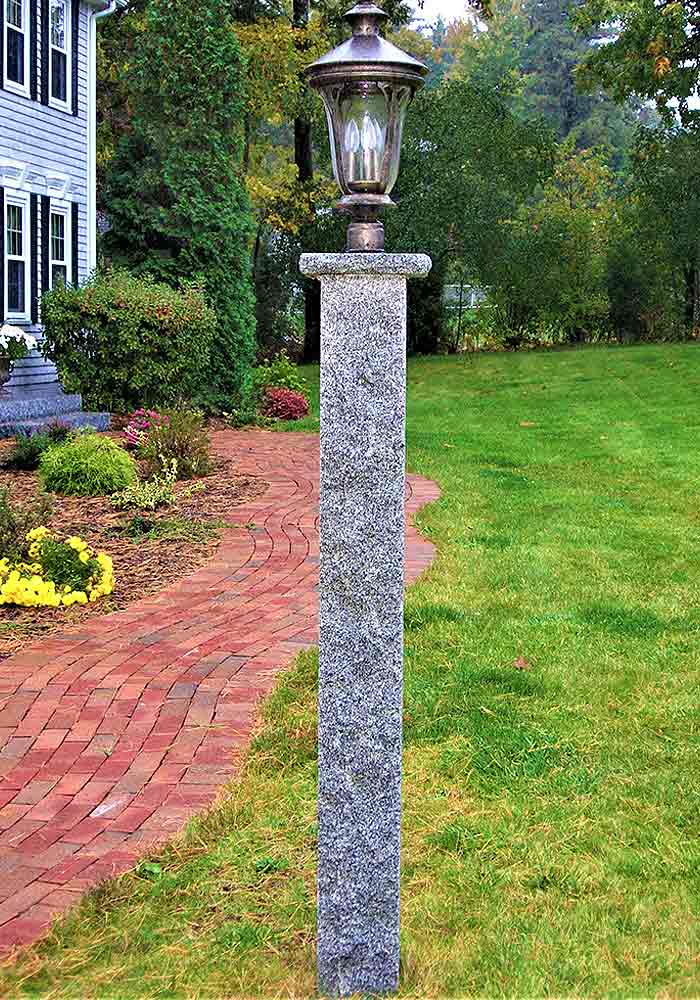 Granite lamp posts are a classic yet inexpensive upgrade to your landscape. These features add charm while giving a natural and inviting look to your property outlasting any other post material you can find.
Add a final touch of sophistication and elegance to your property with a solid granite lamp post in Chelmsford, MA, Westford, MA, and Littleton, MA. Complement and enhance the value of your home by adding more character with custom engraving.
Our standard posts have two sides with a thermal finish and split finish. The standard finish strikes a balance between maintaining a rustic look and offers a smooth surface for engraving.
Use Granite Lamp Posts As A Front Door Lighting Feature
There is a plethora of ways to light up the exterior of your property with granite lamp posts. Use granite lamp posts to border your driveway, as a front door lighting feature (perhaps the best and most decorative manner in which to light the front exterior of your home), or accent lighting for your patio/outdoor entertaining area.
While it is important to light up your home and increase visibility during the evening hours, granite lamp posts also look great during the day. They are durable, virtually maintenance free, and once again enhance the look of your property both day and night. Unlike wooden and iron lamp posts that rot and rust, granite lamp posts are resistant to the elements and last a lifetime.
Granite posts are available in a vast variety of sizes and styles making them a great hardscape choice in Chelmsford, MA, Westford, MA, and Littleton, MA.
Use Granite Lamp Posts As Patio Lighting
No need to head inside after sunset!  Granite lamp posts make great lighting features for backyard patios so you can continue to entertain guests when the stars come out.  Not only can your guests enjoy the patio at night, granite lamp posts also provide a great opportunity for people to take a stroll along the yard.
Use Granite Lamp Posts To Border Your Driveway
Driveway lighting is one of those elements that not only creates a beautiful entry to your home; it also highlights some eye-catching features in your yard. If you happen to have a long driveway, granite lamp posts will help to ensure both you and any visitors will stay on the correct path when it is dark outside. It is important to give a bit of consideration to the actual length of your driveway and the amount of lights you will need when choosing the granite lamp posts. For example, you may very well want to have a row of lights placed along the entire length of your driveway in Chelmsford, MA, Westford, MA, and Littleton, MA.
Some homeowners choose to have granite lamp posts placed at particular spots in order to highlight narrow edges and curves. A professional granite lamp post installer will help you design a plan that works best for you and your property.
Granite lamp posts are the perfect way to illuminate your yard or grounds while adding a bit of class, sophistication, and style to the property. As well as adding needed light, they add artistic and visual appeal.
Create a classic look to match your authentic allure and appeal by custom ordering.
If you are interested in having granite lamp posts installed at your home in Chelmsford, MA, Westford, MA, and Littleton, MA, and surrounding areas, or would like to learn more about the topic, please contact Courtyard Concepts today. We are an outdoor living company that specializes in creating and installing custom hardscapes that greatly improve both the aesthetic value and functionality of your home. Courtyard Concepts has been proudly serving clients for over 20 years.