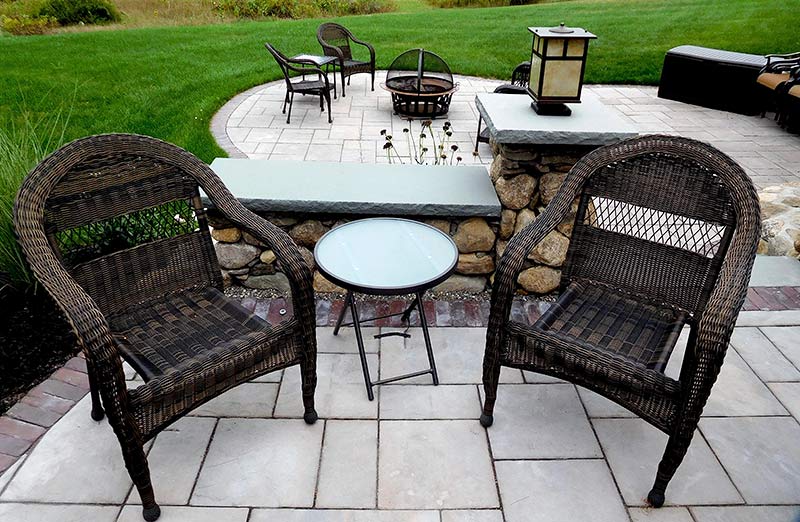 Creating a realistic budget is a key element when planning your next hardscaping project in Chelmsford, MA, Westford, MA, and Littleton, MA. Every homeowner has a budget in mind so it is important to figure out what project or projects are important based on that budget.
The first step is focusing on the areas you would like to utilize most. For example, would you like to add a beautiful built in fire pit to your existing patio or a fresh new entryway leading to your front door?  Maybe you want to focus on replacing existing hardscape features that are bothering you and need to be fixed immediately like a broken stone step. The following tips will help you budget for your next hardscaping project.
Hire A Professional To Design A Realistic Plan
One of the best ways to avoid costly mistakes is to hire a professional to design a realistic plan and work with your budget objectives in Chelmsford, MA, Westford, MA, and Littleton, MA. This will help you to picture what the actual possibilities are compared to the budget you have in mind. It will also help you visualize the steps needed to actually achieve those possibilities and ensure the project is done the right way. In essence, a design plan will help you understand where your money is actually going.
Avoid Being Shy About Discussing Hardscaping Costs
It is important that you communicate and don't be shy about discussing project costs. A good hardscape company will respect and work with your budget objectives. You know what you can afford and talking about it upfront will help to ensure that you don't go over budget. For example, if a particular type of hardscaping material is too expensive for your budget, we will help you choose another one as certain types of pavers are less expensive than others.  We're here to help!
Courtyard Concepts specializes in creating and installing custom outdoor living hardscapes for residential clients in Chelmsford, MA, Westford, MA, and Littleton, MA, and many other towns. With over 20 years' installment and detailed project management experience, our team takes pride in its workmanship and strives to improve the functional and aesthetic value of your property.
Courtyard Concepts has been proudly serving clients for over 20 years.