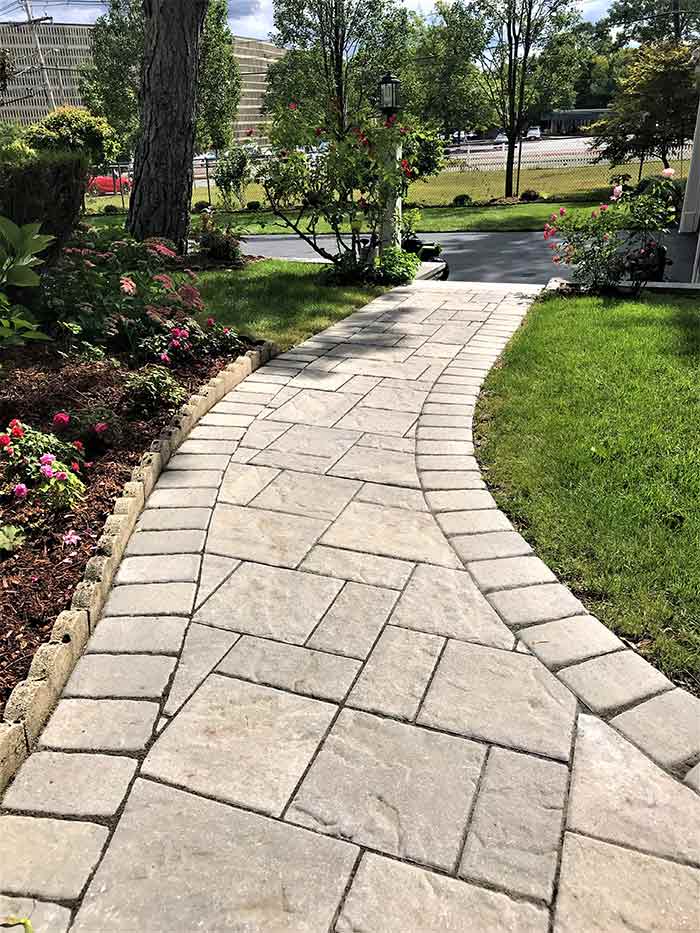 A custom designed and constructed walkway is far more than a simple means of connecting various living spaces in your yard or transitioning you and your guests to different areas of your outdoor space. A custom walkway is a design statement that will add timeless beauty to your home and increase the value of your property. In essence, it will provide you with both form and function. For example, if you are looking to keep typical foot traffic off your lush green lawn, a custom walkway is the perfect solution!
Whether it is leading from your driveway to the front door, house to your patio, or patio to your pool area, custom walkways certainly add a function and aesthetic appeal that is second to none. When looking at the design and layout of your walkway there are several options that you should consider. A walkway is ideal for creating an effective and functional path in Chelmsford, MA, Littleton, MA, and Westford, MA. Custom walkways can be built as a curving pathway or you can choose to have all the angles and lines laid out in a straight style.
Walkways and pathways can flare out in order to meet your existing steps or patio space. If your lawn happens to be uneven, you can choose to incorporate steps or short walls into the design to accommodate the existing conditions. The process for having a custom designed walkway installed at your home as with every hardscaping project, begins with an on-site consultation. A walkway design and construction expert will meet with you to go over your goals and visions.
We will work with you every step of the way to design and install the perfect walkway that reflects your lifestyle and budget objectives. Our hardscape representative will take measurements and pictures of where you desire to have the walkway installed. They will then work directly with you on the actual design process. Once the layout has been finalized, you will need to make the final decision regarding materials. For example, would you like the walkway to be constructed with pavers, paving stones, natural stone, bluestone, granite, flagstone, or brick. There are endless possibilities for products, designs, patterns, colors, and we are here to help!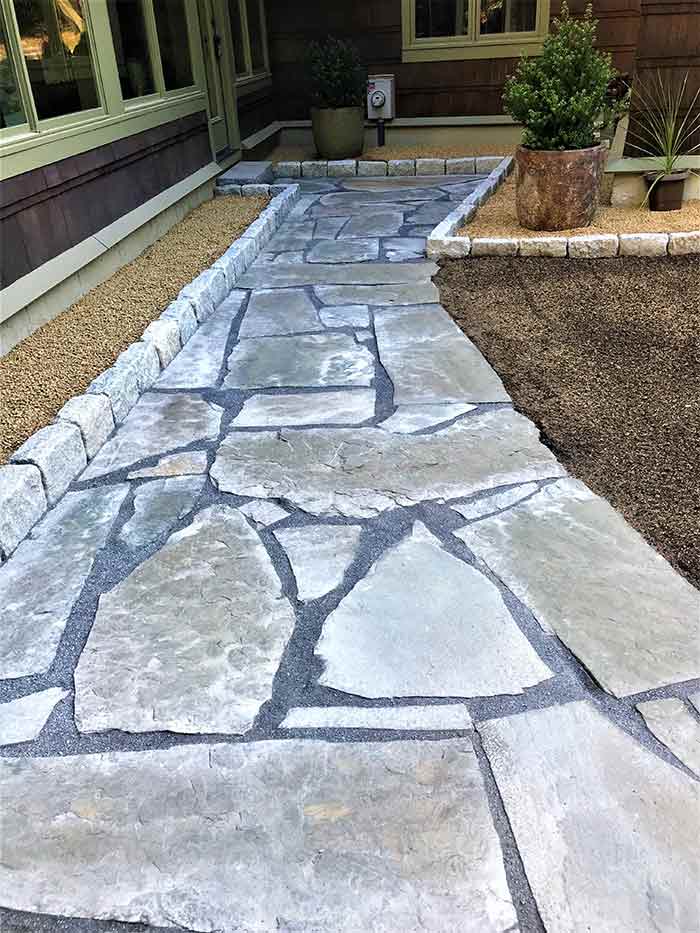 You may want to visit a local supply yard with your custom walkway designer to go over all the choices. Your walkway will then be marked prior to the start of construction so that you can see how everything will be laid out. When the job is complete, the area will be left clean and neat. New soil and seed will be spread all areas that were disturbed during the construction process.
Many homeowners are curious if they need a building permit in order to have a custom walkway installed. Although a building permit is not necessary since the project does not affect the structure of the property, it is always a good idea to check with your homeowner's association in Chelmsford, MA, Littleton, MA, and Westford, MA, if you are part of one. There may be particular rules you need to follow.
In conclusion, if you are interested in having a custom-built walkway installed at your home in Chelmsford, MA, Littleton, MA, and Westford, MA, or would like to learn more about it, please contact Courtyard Concepts today. We are an outdoor living company that specializes in creating and installing custom walkways that greatly improve both the aesthetic value and functionality of your home. Courtyard Concepts has been proudly serving clients for over 20 years. You can reach us by phone (978)-256-5454 or Email at designs@courtyardconcepts.com.